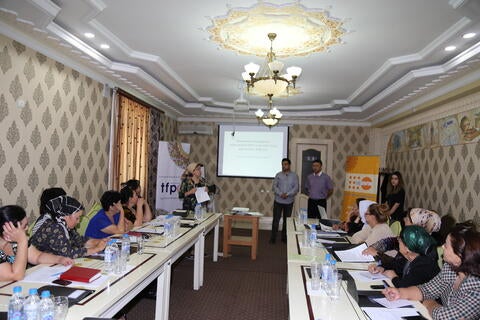 September 24, a multilateral round table on reproductive health and family planning was held in Khujand.
Achievements and needs in the provision of reproductive health services in the Republic of Tajikistan were discussed during the event. Within the framework of this topic the following issues of logistics, use of contraceptives, their accounting, storage, distribution and reporting on movement of reproductive health commodities and contraception distribution were considered. In addition, they talked about procedures of collection statistical data for reports and analysis of contraception use as well as collection data on contraception needs.
The event was organized by the PO "Tajik Family Planning Association" funded by UNFPA Tajikistan.
Heads of regional Reproductive Health Centers, representatives of the Health Department of Sughd Region and the National Center for Reproductive Health under the Ministry of Health and Social Protection of the Population of the Republic of Tajikistan participated in the event.
Also, with the purpose of promotion of the information dissemination, UNFPA Tajikistan demonstrated special social videos about access to contraception, prevention of early pregnancy and spread of HIV. It is worth note that many participants requested movies and provided their USB flash drives to handle them for further use with purpose of displaying them in their Centers of reproductive health for public.
***
THE UNITED NATIONS POPULATION FUND
DELIVERING A WORLD WHERE EVERY PREGNANCY IS WANTED, EVERY CHILDBIRTH IS SAFE AND EVERY YOUNG PERSON'S POTENTIAL IS FULFILLED.
BECAUSE EVERYONE COUNTS!
For more information, please contact:
Mr. Rustem Takhirov
UNFPA Tajikistan, Communication/Advocacy Associate
48, Aini str., Business Center "Sozidanie"