In two districts of Sughd region – Bobodzhon Gafurov and Guliston city – the first mobile consultations were organized on a healthy lifestyle, development of life skills and reproductive health for adolescents and young people.
About 160 teenagers and young people (girls) – school pupils of 8 schools received knowledge about reproductive and sexual health, fertility, and about abortion along with the prevention of the use of unwanted materials, the prevention of sexually transmitted infections (STIs) and HIV / AIDS. The average age of participants of mobile consultations was 16-18 years, who were invited from both cities and remote jamoats (small districts) of B.Gafurov and Guliston city.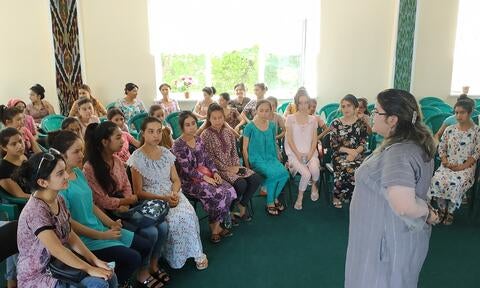 Sessions on family planning, personal hygiene, reproductive rights of adolescents and youth, as well as the development of their skills in life, were conducted by an invited health professional in the work with this audience.
There were held quizzes in each target area in order to motivate girls to remember the received information. As a result, in Gafurov district 19 girls and in Guliston 17 girl-participants became winner of quizzes, who take gifts in form of different personal hygiene items.
At the end of educational activities participants planned to start regular educational sessions with their classmates at the beginning of new school year in order to acquaint their peers with information they received.
Representative of the Ministry of Education and Science represented by Deputy Minister Latofat Naziri, representatives of civil society, teachers and young activists took part in these events.
The purpose of such events is to promote and improve the level of knowledge and skills of adolescents and youth in the field of health care, as well as timely assistance in reducing undesirable factors and challenges.
Mobile sessions were organized by the PO "Peer-to-Peer" with funding from the United Nations Population Fund. The project was supported by the Ministry of Education and Science of the Republic of Tajikistan, as well as the Youth and Sports Departments of the executive bodies of the state authorities of the Bobojon Gafurov and Gulistan districts of the Sughd region.