Today, 11 October the "PechaKucha" Dushanbe #7 event in the format 20 slides and each for 20 seconds took place in the new coworking centre "Parking".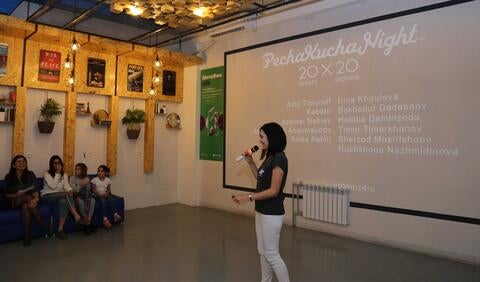 This platform brings together different people who come to present their achievements, ideas and how they did it. Given the free format the most part is young people as well as adults gather for such self-presentations.
This regular event was held with the support of UNDP in the framework of the International Day of eradication the poverty on topic "Hidden Values" and with the participation of UNFPA Tajikistan to disseminate information about International Day of the Girls Child.
To celebrate the International Day of the Girls Child by dissemination information about this day two speakers from the UNFPA Tajikistan – girls, one of whom was 13 years old girl, presented their values and achievements.
Lola Kasymova already in her young years is actively keeps her videoblog and winds up the Internet with her creativity in the information field. As noted by Lola, to achieve success, she does not need expensive equipment and complex programs. For blogging and content creation, she uses very simple gadgets and basically gets all the knowledge through the Internet. In continuation of her presentation, she emphasized simple and accessible – especially in the age of digital opportunities. During the speech, Lola even complained that it was a bit late to come to her passion, because in this field you can meet younger bloggers as well as 8-9 years old.
By presentation Lola revealed to the older youth that hidden opportunities that are literally available for everyone and everywhere. The main thing is just to want and to start. Currently, she is preparing for an international festival for young journalists in Artek, a ticket to which she won by her work. This event is one another achievement because in her young years she already participated in the various national and international platforms for young creative people.
After Lola, the next speaker from UNFPA Tajikistan – Marifat Davlatova revealed subtle hidden values ​in the art of watercolor and why she chose this particular direction in the art. Her main message in the speech is a call NOT TO SIT, but to do exactly what you like and want. Otherwise, according to her, if nothing is done, then nothing can be achieved and therefore she decided to do exactly what her soul want.
In her work, Marifat decided to portray the female body beauty and told about the drawing features of people by the watercolor, which is a complex process of expression.
"Look at a sheet of paper – after applying any stroke on it it is no longer possible to return its white purity and therefore it is important to understand what you want to depict," - Marifat paid the viewers attention to the philosophy of watercolor painting.
About one hundred and fifty people attended the event. UNFPA Tajikistan distributed to each visitor branded packages with information about the International Day of the Girls Child in order that participants could to learn and remember this day.