September 25, in the village of Shingak of Penjikent region, a number of events to respond the emergency situations by public and all responsible state institutions were taken there. The exercises were conducted to build community resilience and strengthening disaster risk reduction systems at local and national levels.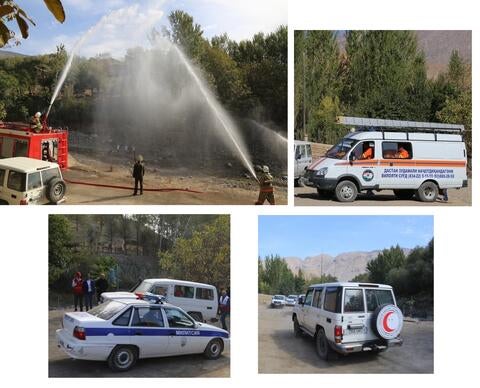 During exercise, special vehicles with the personnel of the Committee for Emergency Situations and Civil Defense, the Red Crescent, the police, the ambulance and the fire department began to arrive one by one.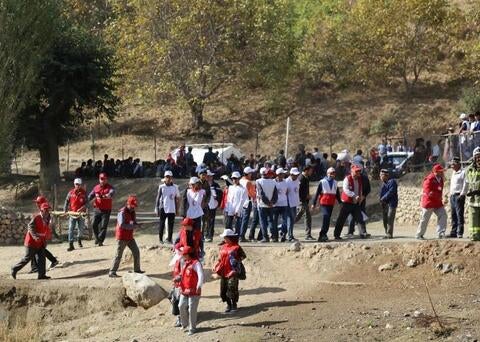 Given that the village is located in a remote and hard-to-reach mountainous area, simulation exercises were almost like real emergencies. The response of all responsible services was demonstrated with professional accuracy and coordination.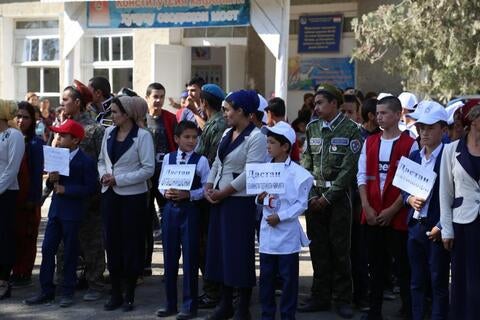 In particular, different exercises were conducted with the population. Firstly, respond actions were taken by population against of fire in the school and nearby houses. Schoolchildren and residents of nearby houses which were in fire under scenario were promptly evacuated to special safe sites of population concentration. As soon as residents and children were moved to safe places began the process of extinguishing the fire. Firefighting crew arrived to show the combat with fire who demonstrated the equipment deployment and the process of extinguishing the fire from different types of firefighting equipment.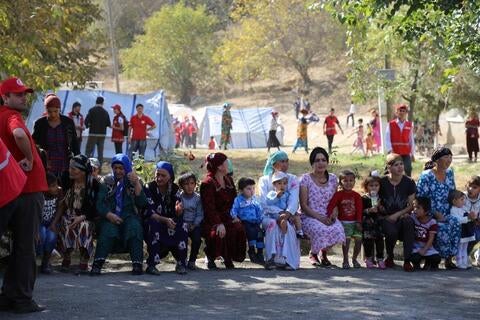 Representatives of UNFPA Tajikistan during the monitoring of these exercises had opportunity to pay attention that village population consists mostly of women and children. Given the Organization' mission it is necessary during such events to add youth work components on a peer-to-peer base to teach young people the response skills and providing first emergency help before the rescue services arrival. Another proposed component for exercises is pregnant women evacuation by using scenarios as affected future mothers to save both mother and child.
In general, the observations of UNFPA Tajikistan staff gave an opportunity to see near-reality emergencies in which additional training activities are suggested for joint implementation.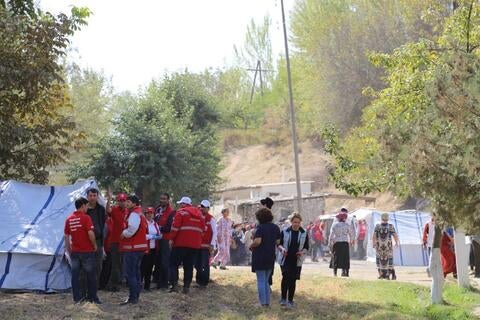 The exercise was organized by the Red Crescent Society of Tajikistan (RCST) in partnership with the Committee on Emergency Situations and Civil Defense under the Government of Tajikistan (CoES), the Khukumat of the Penjikent region by involving all relevant government emergency services. This event conducted within the framework of a 14 (fourteen) months "DIPECHO 10: Building community resilience and strengthening disaster risk reduction systems at local and national levels in Tajikistan and Kyrgyzstan" project and implemented in Penjikent city of Sughd province of Tajikistan by RCST and German Red Cross with the financial support of European Union's Civil Protection and Humanitarian Aid Operations Department (ECHO).
***
THE UNITED NATIONS POPULATION FUND
DELIVERING A WORLD WHERE EVERY PREGNANCY IS WANTED, EVERY CHILDBIRTH IS SAFE AND EVERY YOUNG PERSON'S POTENTIAL IS FULFILLED.
BECAUSE EVERYONE COUNTS!
For more information, please contact:
Mr. Rustem Takhirov
UNFPA Tajikistan, Communication/Advocacy Associate
48, Aini str., Business Center "Sozidanie"